Find Your Castle in Greater San Antonio.... New Braunfels!...and Boerne!
Rick Clifton, providing 11 years of friendly giving experiences to Home Buyers and Sellers
WHY STAGING A HOME IS BACK ON TRACK THESE DAYS
- A 45% FASTER SALE!!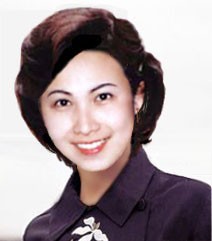 Wendy Liu Clifton


My wife has always been an artist, a student of Feng Shui. Houses that she arranged sold! So when I first became a Realtor and joined a National Fortune 500 Real Estate company for their extensive training, the very important aspects of Staging a home in an appealing manner were covered - including Feng Shui.


According to Feng Shui a South facing home is considered good Feng Shui and brings good luck. But interestingly the reality of South Texas homes that face South guarantees the back patio is going to face North, where you want it - in the afternoon SHADE! Of course North and South are OK too, but you get what I mean about just getting home at 5:30, the sun is setting, and you need to relax on the patio.


Feng Shui has found a prominent place when it comes to improving the look and feel of your home.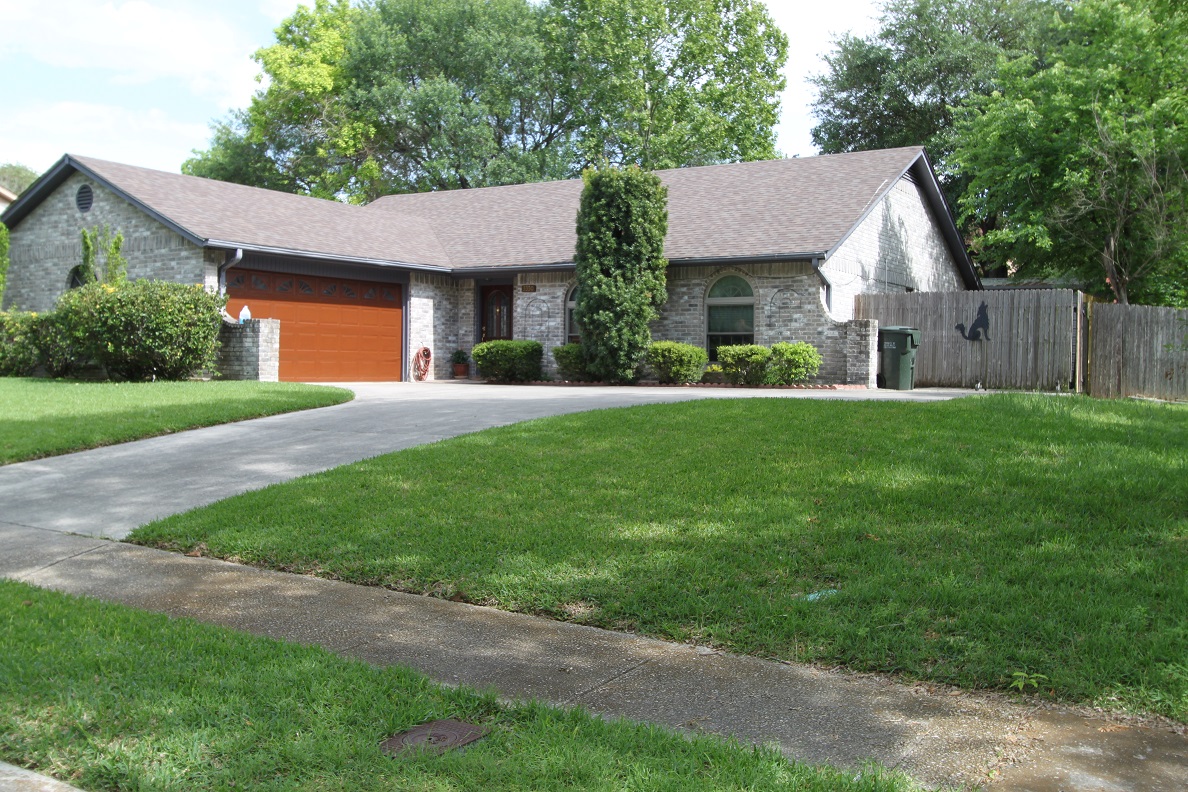 This picture above shows a Home built in 1985 - but you would never know it. The landscaping for example is balanced in such a way as to 'warmly embrace' the home. Yet the tall Scotch Pine lends a little drama to the peaceful surroundings The newly painted garage door in the middle adds color and dimension along with the brick arches above the windows giving a sense of peace and spirituality.
So homes such as this one are "Timeless" in their design and location and command more money than those which lack the qualities of a home with the proper Feng Shui principles employed.
Lets talk a little bit about 'comfort' and 'feel' INSIDE a home as a result of technology. Low-e glass, vinyl/wood engineered floors, a new insulated garage door etc. The result of doing any one of these - or all of them, can have a transformative effect.
An owner of a similar 1 story home in the same neighborhood (see below) had One room that drew everyone to it. It was a comfortable covered back patio that was flooded with light and beauty, and was as cool as a cucumber and you couldn't help but gravitate toward it! lt looked out on a spacious, beautifully landscaped back yard (1/4 acre) with a giant tree and even reading up close to the glass in the hot summer heat, you couldn't feel any heat from this room!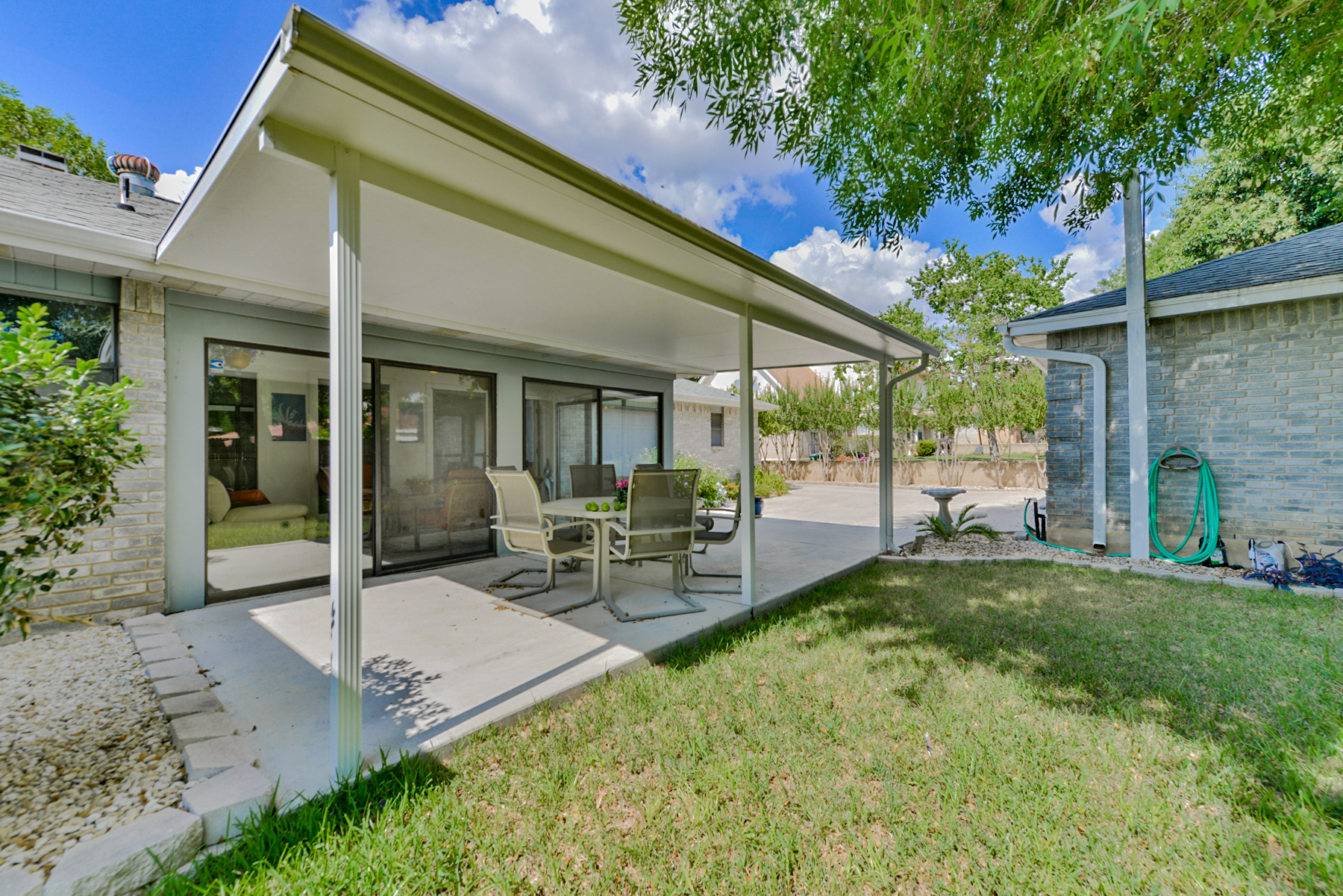 The owner a retired Lt. Colonel had put in 1" thick Low-e-glass on the 2 sides of his covered patio that was exposed to the outside and faced South. It was beautiful and filled with SO MUCH natural light- you almost expected to feel the heat - yet nothing but coolness! Coolness all around you! I don't need to tell you that this ONE ROOM sold that house! It was originally a "Florida room" which has come to be known as the 'hotbox' in the summer and the chilly place in winter by most San Antonio realtors.
But the owner and I decided that the transformative effect created by the Low-e glass was so welcoming we decided to make this the "Study" in the MLS. The result was most realtors came to visit to see this new brightly Lit Study - and may well have turned the MLS page to another property when they saw "florida room" in the MLS. ( SInce there was already an existing study the owner and I decided to rename it the '4th bedroom'. When i think back about it we could have missed hundreds of potential customers who would have completely missed an amazing feature of the house and mentally put it into the undesirable category.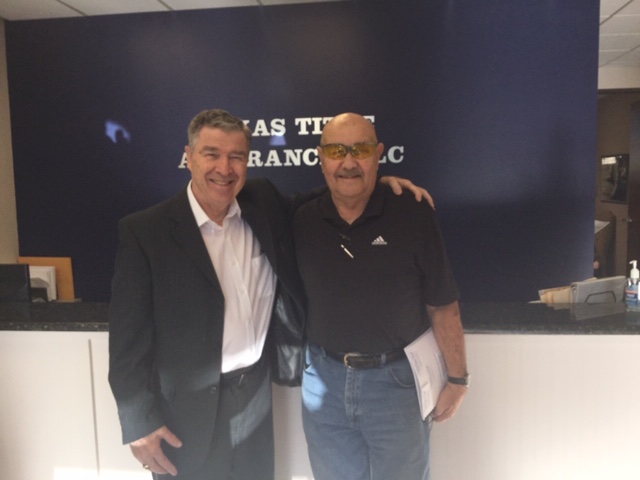 We got an offer on this house the first weekend! - during the Open House. The Study was surrounded by tall trees, and shrubs that made us feel as if we were living right out there with them! You could see the outside landscaping with no harsh sunlight coming directly in. The new low-e glass made this re-modeled area unbelievably comfortable even on very hot days!
I also decided to make this the 'Central Attraction' on our Open House plans with curious drive by customers that first weekend, because it had good Feng Shui. You felt secluded and peaceful, the outside yard surroundings opened up to you with all that glass to let the light in - My seller had wanted to move everything out because he was moving. But I convinced him to leave his comfortable Rattan-wicker natural looking furniture, and he took my advice and it made all the difference as we wrote up the contract in the Study!
ANOTHER WAY TO LOOK AT STAGING
Would you give a Christmas present to someone without wrapping it? Would you give a speech without a flowery introduction of the subject of the speech? Wrapping presents is not only a symbol of love and caring, it is the way in which you present the gift, as if the Gift were coming from your HEART, enhancing the Value.


Staging a home is no different; it enhances the value of the home; It puts the house up at a different level. Well, first it makes people think that the home was 'well taken care of' or 'gently lived in'. It is more work but it is an extra service that I don't normally charge for (unless it turns into a big project *) because I have found my listings sell faster and usually command more money for the seller! It is something special that I provide with my brand of customer service. (I also provide Virtual Staging, but more later about that). Most of the time I will help you stage your home yourself and advise you on the proper way to do it or to make the necessary changes, in order to save you money. You definitely want to make every room in your house seem comfy, useful, and clean.


After selling and listing homes for a awhile we've gotten to know what influences buyers We will list just a few of some of the subliminal things about a home NOT staged property that can influence the potential buyer in a negative way. It's those Underlying Impressions people get when entering a room that is liable to make them say "I can't put my finger on it, but this house just doesn't do it for me'. In many cases when even a particular room is 'not right' it will actually make buyers turn right around and go to look at the other homes on the list. And no buyer agent shows just one house. 90% of us have 5-6 "very similar" homes ready and lined up to show.
The trick is to get the buyer to stay a little longer with good staging. Make every room a conversation piece if you can.


So Here is a partial List of some common mistakes made when a house is not staged properly:
Number 1: too many distractions
Way too much furniture can clutter a room and it has the subliminal effect of uneasiness to the buyer. When that happens you have no focal point and the eye just darts all over the place never really taking in the room.


Number 2:Too much 'personality'
You can 'over-decorate' a home with those war medals and collectors items and slogan magnets on the refrigerator door. It's wonderful to see patriotic Americans embellishing the home, but it somehow takes something away from the wife who is looking for and envisioning the places to hang her wedding pictures. Bold colors, lace curtains, wallpaper borders, etc is out of style. Again, you want to leave 'room' for the buyers imagination. They have already decided on the house from the pictures on-line, and you don't want to blow the sale by getting in the way of the imagination, the subjective evaluation, the process that future buyers always go through that clinches the deal.
Number 3: Too little personality
Sometimes the homeowner decides that they'll stage the home themselves without any advice, and they neutralize everything so that it looks closer to a hospital room than a living area. This also doesn't work very well because you want to make the room look warm and inviting. The husband wants to see the armchair near the window because he envisions that's a great place he will want to go to get some peace at the end of his busy day.


Number 4: The Power of Feng-Shui
One of the philosophies of Feng Shui is the feeling and appearance of peace and tranquility. When you enter into a dwelling the immediate and far interior of the dwelling should not be immediately visible to the owner or guest who arrives home. A little 'mystery' important. At the very least the entrance should have plenty of space between the front door and the main floor. Coupled with anticipation, there should be a visual sense of mystery and calm at first entering, helped by 'screens' or appointments, or a well designed hallway that angles to the right or left before you get to the main part of the house.
That said, there are some things about Feng-shui that are hard to fix. You obviously can't change your house around so that the front now faces South but then there are things that can be done to mitigate. A big turnoff to my wife when we were looking at homes, was that upon entering certain homes, she would be confronted with steps up to the 2nd floor bedroom area. You can't change the steps, but you can put a plant or screen to give some depth perception to the eye if there is enough room. My wife loves to help my clients with her ideas and I am very willing to share her with you!


Number 5: Lack of a Clear Purpose
Try to create a 'use' for certain spaces in the home or room that do nothing to help a buyer fall in love with the house. Plants, reading lamps, and an extra bookcase here and there will help tremendously.
Number 6: Inconsistent quality
You can't have a wonderfully painted hallway, and the rooms are left the same old color as before. Inconsistency is distracting. You don't put cheap furniture in a very expensive home, and vice-versa.
Number 7: The Right Room- but the Wrong Treatment.
This is self explanatory. If you put an oversized bed in a small room, it makes it look smaller. Buyers will walk by a Dining room that was turned into a play-area for the kids, and the buyers will think that there is no dining area.
If you are a Seller, and you are willing to keep some of the heavier furniture pieces such as a bed or a couch in the house, you can do a lot towards working with our Group to be sure we are showing the home in a respectable way that gives the warmth and hominess that we are both trying to achieve. In the event that you are moving everything out and storing it, I would like to look at your home and all the various rooms and your moving and storage plans first so that we can come up with a strategic staging plan during the time we are listing and selling your home.
Virtual Staging
As noted above, you can get a certain room, or kitchen, or almost ANY area of your home Virtually Staged. The advantage to this method is it takes none of your time, and as long as you do the normal cleaning and sprucing up that you do with any property for sale, you are will probably get more money for your house.
This requires working with the Photographer a bit, because it is HIS pictures of your various rooms that are going to require the modifications, where a Photo-shop artist "injects" a Couch, a Fireplace (with a real fire in it), and two coffee tables in the photgraphed setting of your living room!


As with normal staging there is a minimal fee involved for the use of PHOTO-SHOPPING and the art-work of the artist, but the results you get based on reports is a 45% faster sale, and usually more money for your house. IT is definitely worth looking into!