Scenic Homes and Properties
San Antonio is a mecca of interesting scenic homes and locations, with easy access to get there. Often a home with beautiful scenery around tells you something about it's inhabitants and their lifestyle. With other cities you usually have to commute quite a distance. Not San Antonio! It is older and has more history, and has preserved the scenic beauty even from the inner-city. Whether it is a love of good architectural design, closeness to nature, a desire to escape the daily grind amongst a Peaceful Oasis of Oak or Palm trees, many are just a few miles away from downtown. There are actually modern places to retire on - right in the heart of the city - on the Riverwalk! Naturally we have a retirement places near lakes and rivers with lots of space, 30 minutes away in the country as well. The climate here is such that it is easy to grow large Oak trees and other varieties such as Palms and Crepe Myrtle.
There are a Lot of different Lifestyles in San Antonio! You could easily live near a Beautiful lake or on the aquamarine waters of the Guadalupe and Pedernales Rivers, or in the 'Wine Country', or even live the life of a 'rancher' and get a huge tax exemption by raising a few head of livestock! It's called the 'Texas Agricultaral Exemption' or 'Texas Ag' exemtion for short. It is hard to believe for people new to San Antonio that all of these settings are well within commutable distance of downtown. Some properties for sale already come with the Texas Ag Exemption - and you can buy a property and get 'grandfathered' as long as you contribute to the cause by having your children raising good, healthy livestock as a hobby, while you work your regular '9-5' job.


These Scenic homes and lots in South Texas have met the needs of many discriminating buyers who wanted the peace and closeness to nature that didn't cost the 'usual' million dollars other places have them listed for. The lake below is Boerne Lake for example. There are lots in the Hills surrounding it with great views of the Lake and Hill Country. The swimming, boating and fishing are great at this fresh water lake. Then there is Canyon Lake with it's boating, fishing, and swimming. It was built by the Army Corps of Engineers over 50 years ago by damming up the Guadalupe River and has attracted tourism, boating, and vacation home buyers for decades.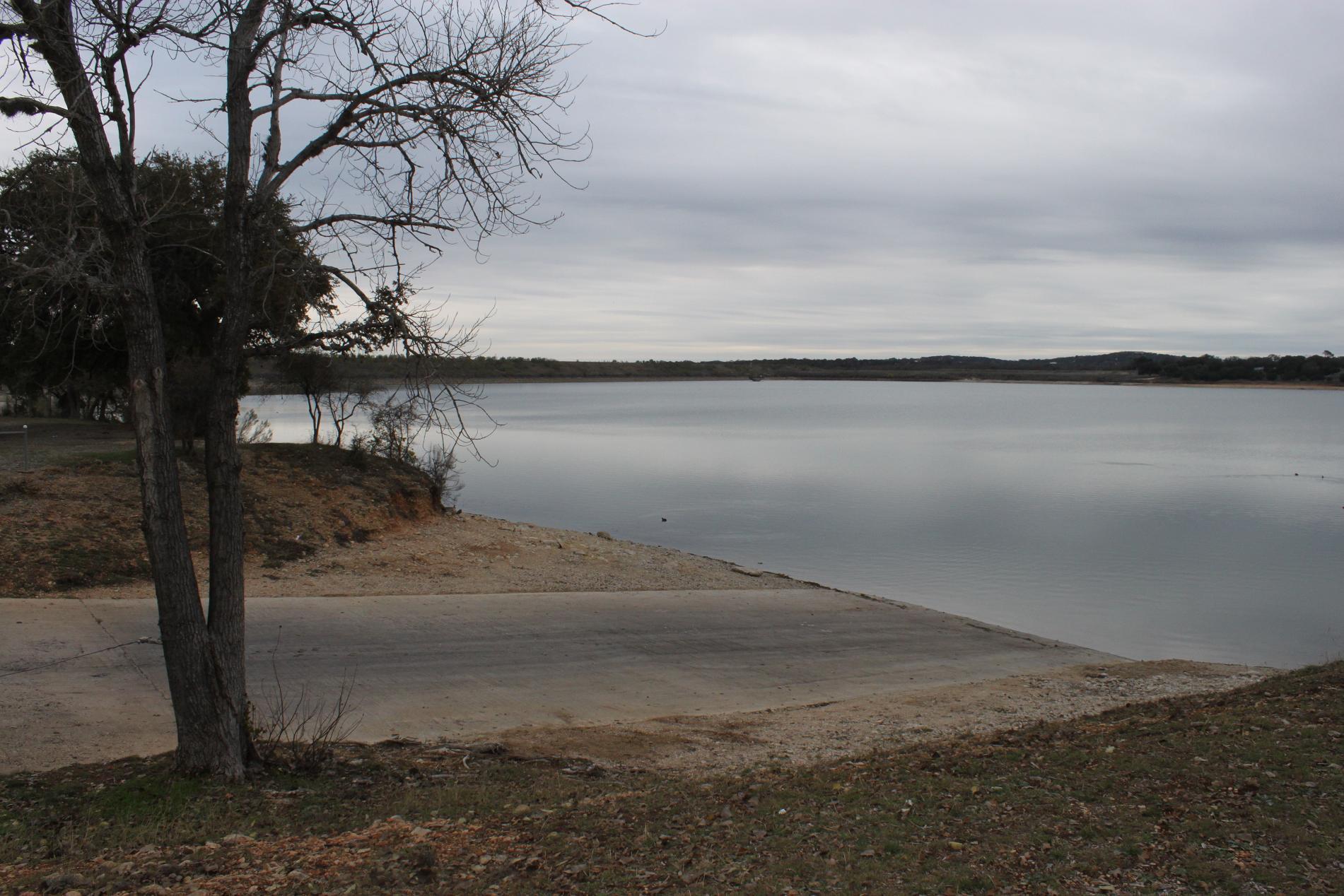 Most of these scenic homes range from 1-20 years old. There are some lots with magnificent views of the county or city. There are brand new contruction homes by selected builders. Most build with energy saving and green features. Other homes may be older but they have been updated and they are the exceptions due to outstanding remodeling work. Every once in a while I find a BANK FORECLOSURE at around 15%-25% off the price and depending ujpon the condition and finance program, you can roll some energy savings features into the loan. Many Scenic homes are on a good lot size. Half are on a 1/4 to 1/2 Acre lot and the rest are more typically 1 to 5 acres.
I continually search for these kinds of homes (And lots) and get them at competitive prices and you would never know there is a national housing problem in San Antonio. I am always on the lookout for something unusual. Some times I find them in 1 acre gated communities in areas North, East, West, or 30 miles south of San Antonio nearer LaVernia and Floresville in our well known 'Horse country'. Of course there are plenty of stately old homes, in established neighborhoods close to downtown. The homes I find may not always get listed on the Multiple Listing Service right away. Those found on MLS tend to go quickly because they are seen by every Realtor. Those NOT on MLS, are not able to be seen, and are held back because of some reason or other by the owner. Most owners have a lot of pride and history that is attached to their property. They hate to leave it. The owners I am in contact with have either not found the price they are looking for, would prefer to work with buyers in private, or are waiting for an opportunity to reach someone who really appreciates what they have.
If a scenic home is what you are looking for, or you own a particular lot, please, for the immediate present call my cell at 210-860-6770 and describe for me what you are looking for and in what area of the City or County you are interested in. I can do three things:
1. I can meet with you and discuss what areas you want to see. Then we pull up a list of Scenic homes that are competitively priced as well. Email me at rcliftonRealtor@gmail.com or call me at 210-860-6770 for an appointment.
2. For a scenic home Custom Home builders are the way to go. No busy neighbors looking over the fence because your lot size is going to be a little bigger than tract/production home builder. I actually work from the model home and use it as my office. If you make an appointment, I am sure to be there - weekends included. We will build on any lot in the Greater san Antonio area, both north in Boerne and Canyon Lake or south in LaVernia and Floresville. But we also have some small lots in SELMA for only 18-25K.
3. Financing. I am a former TX Loan Officer, and know the in's and outs of financing the build project as well as financing the land. If the lot is a large piece on a beautiful setting, the cost will be higher. I can help here. In Texas we have a unique invention called the "Texas Vet Loan". if you are a Veteran you need only 5% down (land up to $100,000) and purchase at least 1 acre. and the latest news has it that it will not show up on your credit report.Many loan companies and a few major banks will do the TX VET LOAN (Wells-Fargo, Castle & Cooke, Legacy Mutual, etc. But the up to $100,000 land deal is best handled direct from the State Capitol in Austin. There is a special 800# to call. 1-800-252-8387
在美国投资房地产最易赚钱的'新大陆'-- 圣安东尼奥(广告)san Antonio ad

现在越来越多çš"中国人在美国投èµ"房地产,很多人赚了é'±ï¼Œä¹Ÿæœ‰å¾ˆå¤šäººèµ"了é'±ã€'å¦'æžœä½ æƒ³èŽ·å¾—æˆåŠŸï¼Œä½ åº"到《福布斯》

è¯"选çš"最佳投èµ"城å¸'来投èµ"ã€'åœ¨åœ£å®‰ä¸œå°¼å¥¥ï¼Œæœ‰å¾ˆå¤šäººå› æŠ•èµ"房地产而å'财致富ã€'下面是本å¸'çš"简介:

1.圣安东尼奥是《福布斯》评选的美国十佳房地产投资城市之一,也是美国人口超百万的十大城市之一。

2.本市是著名的国际大都市: 这里有河滨步道,海洋世界,天然溶洞等多处名胜;还有著名的马刺队。每年接待来自全世界

的游客两千万人次。本市有举办世界比赛的高尔夫球场,还有德州最大,最高级的宾馆。

3.气候好: 本å¸'位于æ°"候æŽ'在全美第三名çš"德克萨斯州,冬季温暖å¦'春ã€'æ­¤å¤"æ—¢æ— åœ°éœ‡ï¼Œä¹Ÿæ— é¾™å·é£Žæˆ–é£"风ã€'

4.æ— å·žç¨Žï¼š 本市居民不须向州政府交个人所得税。(德州是美国50个州中å°'æ•°å‡ ä¸ªä¸å'å±…æ°'征æ"¶ä¸ªäººæ‰€å¾—税çš"州之一ã€')

5.最适合外国人投资: 外国人即使没有绿卡,也可在圣安东尼奥买房投资。本市的很多房产主住在外州或外国。这里有专

门为不在本市居住的房产主出租,管理房地产的公司,收费一般为租金的10% 。

6.投资成本小,利润大: 有些华人较多的城市,中间房价已高达100多万美元,而圣安东尼奥的中间房价才不到20万美元。

目前这里投èµ"æˆæœ¬éžå¸¸ä½Žï¼Œä½ å¯ä»¥æœ€å°çš"投èµ"获得最大çš"利润!!!

7.商业房地产投资人的首选: 本å¸'人口众多,经济繁荣ã€'在这里做ç"Ÿæ"å¾ˆå®¹æ˜"赚é'±ã€'å¦'ä½ ç­‰åˆ°å¤§æ‰¹ä¸­å›½äººæ¶Œå…¥ï¼Œæˆ¿ä»·è¢«æŠ¢é«˜

以后再投资,成本就会比现在高的多,竟争也会激烈的多。

8.中国人的成功机率非常高: 中国人在这里投资,成功的机率远大于华人太多,房价太高的城市。

欢迎大家来圣安东尼奥实地考察房地产。也欢迎大家来我所居住的高尔夫球场别墅区投资。

联系人Wendy(温迪,圣安东尼奥地产经纪助理兼翻译) 电话:010(210)410-8848 010(830)837-5833

E-Mail:fangwen@aol.com