BUILDING A NEW HOME
Working with Production Builders(tract homes)


With my experience as a builder-sales agent, a Loan Officer, and for the last 9 years as a Realtor (and 2 years as a Loan Officer before that) now working for HOME TEAM of AMERICA, we have plenty of resources some ex-military and even active military working as Realtors. Using me, you have an Ombudsman for not only finding the right builder for you, but negotiating, having the knowledge and experience financing homes (so I'll be able to tell you if your builder is really giving you the rate you deserve, and if not I can sometimes make him give you a better rate, etc), I can save you the stress (and confrontation) of fighting to get the home properly inspected with a Phased Inspection (most builders are not used to having 3rd party independent inspectors enter "their" projects), and it is good to have me as a Realtor to represent you.


I have actually worked for a builder before as the 'Sales counselor' (who are not usually realtors and must put the interests of the builder, their employer, first) I have the inside scoop on 38 builders that I have come to know over 8 years in the business. Some of them are very good. With all of them there needs to 'an extra set of eyes, ears, and brain' working on your behalf especially for the Production (tract) homes.


Why is this? Good advice and the feeling you are more in control for one thing, but primarily taking the stress out because at the beginning you dont want to begin badly and during the middle phase you want to be diligent that all things are being done like they promised and so at the end the'rush' of events and decisions you are required to make in a very short period of time are not so stressful. It is so easy for things to get left out in the fast pace of construction nowadays or make one wrong or miscalculated move. To avoid that here are some useful tips.


1. First, don't trust yourself to 'catch' everything the sales counselor says when you VISIT a Builder all by your lonesome. Have a Realtor by your side.


2. Don't trust the sales person to tell you everything. They are not expected to. Nor should they be chided for omitting some very important things that you never even thought about that could cost you later. That would be the Realtors job to anticipate what is probably going to be important to you in the transaction based on his knowledge of builders in the area and the initial interview. Depending on the situation, the Realtor may politely suggest there is a better, less expensive home/builder that fits your needs 5 miles down the road. That builder certainly won't!


3. Never answer the question "What kind of payment can you afford??" To answer that question you give up your negotiating position. (very similar to buying a car from a car salesman). If your Realtor is not with you, Avoid answering, put them on the spot instead, and say you want to see the house first and see if it feels right. To avoid the uncomfortable finance question, tell them 'YOUR REALTOR" told you to ask this instead: 'What are the Standard features that come with the price of the house?" (Get them to make you a list FOR THAT PARTICULAR PLAN that you feel good about. 2ndly, Ask them to make you up a list of the OPTIONAL FEATURES (those things that cost extra- like a covered back patio etc) For that particular plan again. Now you truly have a basis for comparing prices with another builder, Who very often is building in the same community.


4. Building a Production (tract) home is a good way to save money, but remember the builder doesn't build the home - 'crews' build the homes, and they don't all speak English, and it is challenging to communicate with them and keep an eye on them. Even the best 'Supers' will tell you that. So the builders sub out the processes in an effort to make the home more affordable. The challenge of building low priced, and affordable homes and still meet quality standards at the same time is not always an easy task. Depending on the location the builder's community is, you may see much more relaxed building codes than some others. Builders take advantage of that to save costs. The building codes in San Antonio are not the same as in the City of Schertz or City of Cibolo, for example.


5. Builders do not have an obligation to act in a Fiduciary capacity to a buyer like the Realtor. TX Law requires the Realtor. to have this obligation. In fact because of this special obligation and extra work, builders welcome you to use Realtors. It's a source of 80% of their business. In turn the Realtor shares in the Sales Counselors healthy commission and a good sales counselor usually learns to play nice in the sandpile with the Realtor. The Realtor acts as 'another pair of eyes' except exclusively in your behalf. Realtors will tell you everything or give you advice on everything as it pertains to you and your very unique needs. Builders have advertising budgets to accomodate Realtors.


6. A buyer needs someone who can absolutely be trusted to be on their side. There are tricky situations in building a Production house and in financing it, where the buyer really needs to know 'who's Dog is in the fight' for him. and a Texas Realtor is trained to help and knows various financing arrangements and negotiation techniques, or other competent builders, the community at large, the taxes, or even if there is a hidden MUD clause.
7. Much like a pilot can see everything from the 30,000' level - he/she can see everything much more clearly on your behalf, especially if you are new to buying a house in the new area, are on a schedule, and your family is relying on you. It is not to the builders advantage for you to go scouting around. He may not give you the big picture because selfishly he is a 'Sellers agent' and only wants to sell his particular community.
5. Using a Realtor who has an idea what you are looking for allows you to look more freely at MORE builders without you having to make an embarrassing excuse, avoiding sales person pressure, making you feel more free about looking at other choices of lenders as well. Buying is comparing and the Realtor gives you the freedom to explore more choices.
A search for a home is collaborative and different every time, because every buyer has a unique set of needs that affect where they are going to build and when. Also everything is out on the table and in motion: the pre-approval letter,
VA loan requirements,
Appraisal,
Design Center (and delays on choices, extra costs, etc)
Contract examination,
3rd Party Inspection (I always recommend an independent 3rd party for new construction!)
Final Walkthrough


etc.
- and the clock is ticking. There is never a 'cookie-cutter' approach to this. Everything is different every time. This Realtor knows finance and has a number of loan officers/loan programs at his fingertips, and has some sales experience in selling new homes. That is not to say a builder does not have a good lender to use, but lets slow down a bit and compare them.


I have reference clients who will be more than glad to tell you. (Call me for a list of them).
Go to the TAB Texas Living Styles and just to the left is my BLOG, where I give real life experiences of what can happen when you are building a home and how to prepare yourself for it.
WORKING WITH CUSTOM BUILDERS
A custom builder can build a better home, give you more options to chose from, and will build on your own lot (or their own lot). This requires the Realtor to have had more experience in finance and the different ways to acquire a lot, without making a huge mistake in the process.
In many cases the Custom home is bought by someone already selling their existing home and needs a single individual who can handle both transactions
Below is a recent (September 2013 issue) San Antonio EXPRESS NEWS ad with me and one of my Loan Officers about the "MOVE-UP" process of selling your house and building a CUSTOM HOME on your own LOT. Some may think 'buying a lot' is simple, but there's a little more to it. It takes a bit of planning, and the wrong move can cost you. Don't be afraid to get some consulting advice from a Realtor who's done this before. Use the Realtor in conjunction with ALL of them.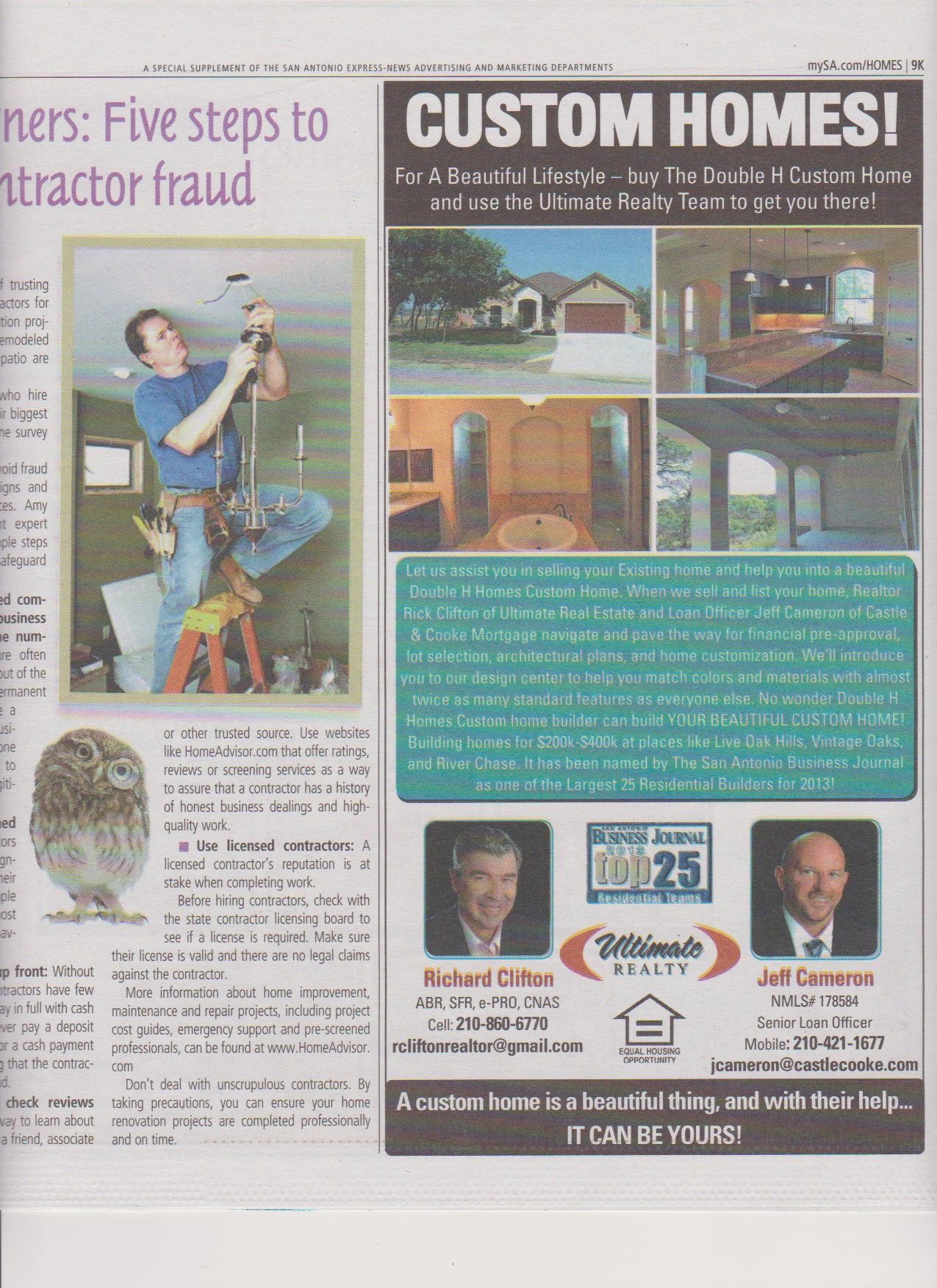 Most builders talk only about themselves and their product, and of course they are all guilty of exaggerating a bit and pointing out the advantages of themselves versus other builders. They are in business for themselves and don't have the fiduciary responsibility that the Realtor does. The Realtor gives you way more than 'Selective information'. You get the '40,000' foot view of things.The Realtor talks about ALL of them and usually can determine the best builder fit for you. IF things go sour, it's your experienced Realtor who knows construction business and steps on how to harmoniously resolve the problem. The Realtor is your agent/representative for all things Real Estate and by Texas Law this agent has a FIDUCIARY Responsibility to work in the buyers best interests. .
Their are common misconceptions too. Some buyers think Custom builders for cost way too much, or too much money up-front. Completely false. Their are all kinds of arrangements made. Some builders will accept a situation where only $5,000 is charged up front for securing both the lot (normally interim financing at 6-7%) as well as the Construction loan - all in one step at 4% for both lot and home. That's what a good Realtor does - and it's free. Remember the "USE REALTOR? WHY" Tab? Look at it again. Your buyer's agent receives his/her commission from the seller, and only if the deal closes to everyone's satisfaction. Even when it closes there is no commission paid by the buyer, just the closing costs and any Lender fees or downpayment.